Before I joined the STEM Equity group as a postdoc, I worked in the Grasping the Rationality of Instructional Practices lab, known partly for their bluies (little blue storyboard characters) and long online surveys. They have done some unique studies that I would have thought were inconceivable, such as having national samples of in-service teachers each complete over 24-hours worth of questionnaires. As another example, I helped them build a geometry teaching simulation using the survey logic in Qualtrics to guide participants through several different choose-your-own-adventure storylines. Through working in that group and administering surveys primarily through Qualtrics, I have learned a few things that (I think) increase the likelihood that your participants will complete the survey feeling more like the bluey on the left than the bluey on the right.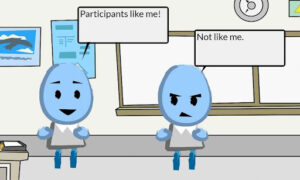 (All opinions expressed are those of the author and do not necessarily represent the views of LessonSketch or the University of Michigan.)
Have a progress bar visible. That way participants will not feel hopeless if the survey goes on longer than expected.

Give participants an outline of what the different sections are and then name the section when they start it. Just like how in a presentation you give an outline, it can help people get a sense for what the survey entails, and mentally feel good about progressing through different sections.

Let people know that they can stop and come back IF they stay on the same device and that device does not delete/reset cookies. They will be very irritated with you if you say they can stop and come back and they return to the survey to see they actually have to redo it. School computers often reset cookies every day.

Break long studies up to different sections and email them out separately. Email the next one only after the previous has been completed, so that it does not seem overwhelming.

Do not have too many questions on one page, as progress is not saved until participants hit next. Also, if participants are dropping out, you can look at the data to narrow down what questions are deterring them from continuing.
Happy Qualtrics-ing!
Mollee Shultz